AHC President's Report – June 2023
AHC President's Report – June 2023
Last month we have had some important developments, particularly within the hemp fibre sector.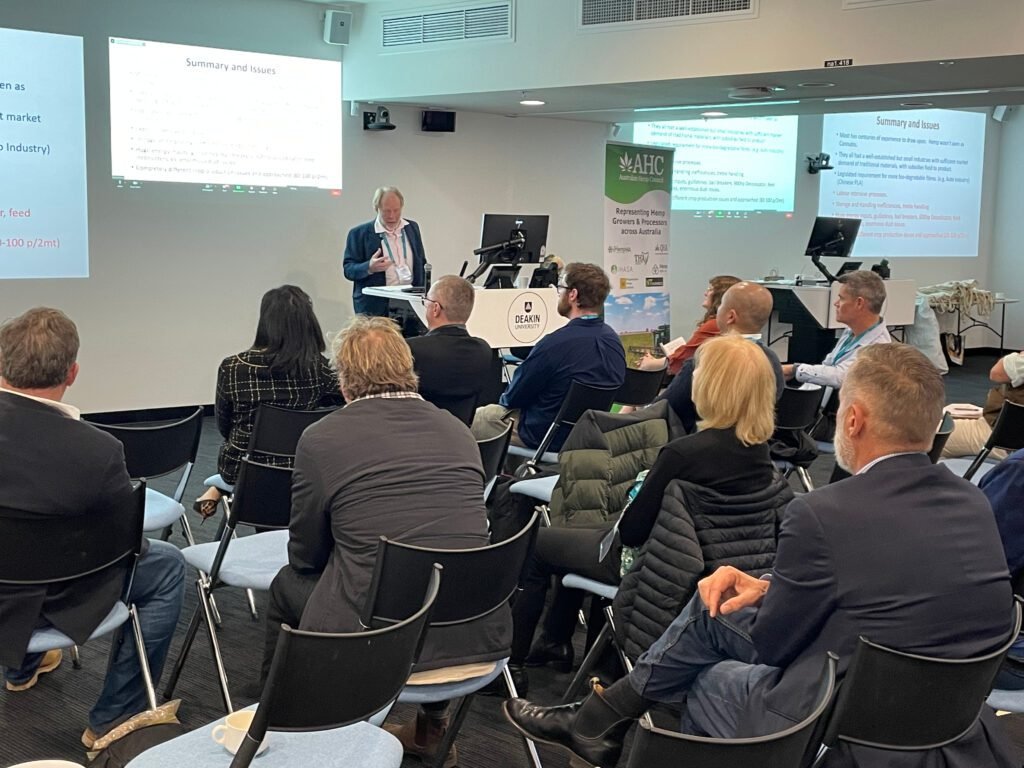 The National Hemp Fibre Forum held in Geelong was an outstanding success with almost 100 attendees learning from industry stakeholders about new developments and investments are occurring in the hemp fibre sector. There will be a more comprehensive report developed to be included in next month's report.
Our report is a little late this month due to an agricultural immersion tour through the US states of California, Iowa and Kentucky.
A group of around 15 agriculturalists were sponsored by Agrifutures for a two week tour investigating the latest research in these states.
Some of the key points were:
Corteva (Pioneer seeds) have developed phenomenal data processing capacity in genetic engineering of crops including pest and disease resistance in maize.
Pivot 40 is a company that has discovered and developed a bacteria that can fix nitrogen through maize roots similar to that of rhizobia in legumes.
John Deer have developed green on green spraying technology for the latest spray rigs, although the spray nozzle spacings are still not in metric increments(!).
The main points on the hemp industry in these States:
California had a huge uptake of optimistic farmers planting CBD cannabis without securing any markets. The industry subsequently collapsed leaving just one farmer growing CBD in the state.
The Iowa state government has not to date made a regulatory distinction between hemp and marijuana.
We had a meeting with Melissa Nelson from South Bend Industrial Hemp in Kansas. They have a regional decorticator and contract local growers to grow hemp fibre primarily for the hurd market.
I believe they are setting a great example by ensuring that the contracted growers can make a suitable return on their crops and have adequate agronomic support. It was made very clear to me that they are only growing for seed and fibre.
The decorticator they purchased had been extensively modified to improve efficiency and when expanding their operation, rather than purchase another decorticator, they will manufacture their own using the knowledge and experience gained.
Seed Certification Rules
Discussed at our last AHC meeting, it was acknowledged that now that we have a seed certification rules format, it will be some time before it's implementation will be practical, given the early stage development of our hemp seed industry.
With projected expansion of the fibre industry, we can foresee the need for extensive seed production to supply growers in the coming years. It's important we ensure that seed quality is not compromised by the need for quantity. We have documented guidelines on our website for growers looking to purchase planting seed.
Social Media Constraints
During the social media promotion of our fibre forum through facebook, we had to re apply twice before we were permitted to promote the hemp industry due to their outdated restrictions. We note that things have improved as previously facebook would not allow any promotion relating to the hemp industry.
---
State Reports
It's not the busiest season for hemp, but here are a few short reports from around the country.

Western Australia – Bronwyn Blake – iHemp WA
Being the off season it's very quiet for growers.
Bronwyn Blake presented on the project Opening the Gates to hemp grazed livestock at the Northern Food Futures in Darwin. Thanks to Dominic Calder (AHC councillor NT), Bronwyn was able to meet with NT Hemp Registrar Mel Frousheger and discuss current policies around hemp as a feed. She has also suggested changing the wording for seed to be 'denatured and non-viable' instead of 'dehulled'.
A couple of events have taken place:
20 June – Kununurra field day displaying variety trials
23 – 24 June – Hemp growers pre-season workshop (Bunbury/Albany)
An upcoming event not to be missed:
9 – 10 Sept – iHempWA are planning a dinner and family expo.
New South Wales – Jaimie Milling – iHemp NSW
There isn't too much happening in NSW at the moment.
Guy Roth of the Sydney University research station Narrabri has reported that they don't have any hemp trials in the ground at the moment. They are drafting a report which should be released soon. They are planning on planting hemp seed varieties this spring 2023
Queensland – Lauchlan Grout – Queensland Hemp Association
As winter is now upon us, small plot research crops are beginning to mature from their Spring plantings whilst large scale commercial crops are gearing up for Spring season.
We are meeting with Jo Sheppard from QFF to discuss building our membership with logical incentives, raising funds to give QHA access to QFF and their member groups. QFF represents all commodity peak bodies in Queensland.
South Australia – Mick Andersen – Industrial Hemp Association South Australia
Nothing to report in SA except for growers being approached to plan hemp crops within their annual crop rotations.
Victoria – Lyn Stephenson – Regenerative Hemp Victoria
We attended the Fibre Forum in Geelong and the following day John Muir ran a pre-season growers' day at Bunjil Farm. Both events attracted new members to our Association, effectively doubling membership. All round, a very productive month.
The motion to hold a Parliamentary inquiry into the hemp industry in Victoria was passed in Parliament recently.
We would value input from other States when we submit to the Inquiry – e.g. varieties, carbon sequestration. This can be quite extensive and valuable to all States if we can co-ordinate it well.
Tim Schmidt – Tasmania – Tasmanian Hemp Association
Pretty quiet in Tasmania at the moment apart from the social media program promoting Tasmanian hemp seed food.
---
The AHC is a voluntary organisation supported by lots of individuals determined to support the successful establishment of an Australian hemp industry. The more members we have, the more we can achieve.
Thanks for reading and if you're not already subscribed, join now to stay up to date with any new information regarding hemp around Australia.
From everyone at the AHC, thanks again and see you next month.