AHC Presidents Report – November 2022
Leading up to the start of the southern season we have a few developments to report across the hemp industry in Australia.
Tasmania
We have been observing industry consolidation in the hemp food sector, including the purchase of ECS Botanics food sector by Ananda Foods and a merger between Elixinol and The Sustainable Nutrition Group (TSN).
TSN, formerly Australian Primary Hemp, has entered into a Scheme Implementation Deed ("SID") with Elixinol Wellness Limited where Elixinol will acquire 100% of The Sustainable Nutrition Group.  With this is a loan facility extended to TSN for working capital.  This is good news for the industry as the two businesses complement each other well.  TSN had significant crop contracts last year with Tasmanian growers.
This season in Tasmania the projected area planting has reduced significantly from 700ha last year to under 100ha this year.  This reflects the large oversupply from the last two years with better than expected yields from Tasmanian growers.  This scenario in the hemp food sector is also been reflected on the mainland.
Fibre
In the case of fibre there are some significant developments throughout the mainland where major projects are planting pilot crops this season to have material available for later in the year to supply initial stage processing.  These developments include:
Townsville – Wandarra Pty Ltd
Grafton – IKG industries
Central NSW – Canna Hemp Care
Central Victoria – Hepburn Ag
Monarto – Vircura Pty ltd
This month the CSIRO hosted a seminar including presentations from a German/Belgian delegation of hemp fibre researchers and processors who discussed the latest in hemp fibre industry developments in Europe.  The AHC will have the presentations available for those who would like to see the latest developments.  To access this information email info@australianhempcouncil.org.au
Biomass
Recently we have learnt of another exciting development for our industry with the utilisation of the hemp leaf.
RUST. GMBH. Natural Products is a private Swiss Company owned by Rudolf Steck. RUST has been developing a natural Fungicide Spray which is a globally patented formula.  This is a totally natural spray, and they are hoping to eradicate the use of all copper sprays for future use and have growers revert to using natural products which are environmentally friendly, non-toxic to groundwater and bee friendly which is incredibly vital for our pollinators.
RUST is using Australian Grown Biomass from the eastern seaboard of Australia and Hemp Leaves is an important part of this product. They are looking to engage with growers of industrial hemp leaves through our hemp associations to conduct further outdoor trials and further laboratory testing with APVMA using different strains that may be available from growers in Australia.
It is expected, once product development is completed, they will require leaf from around 3,000 ha of hemp based along the NSW mid north coast.
Our preference would be to source hemp leaves from farms in NSW as our production hub is likely to be on NSW mid north coast. Once the business has been established, we envisage large volumes of hemp leaves will be required on a yearly basis. This will be an all Australian grown and produced spray that will be exported to Europe and the USA however production hubs could also be established in other countries as the business grows.
We will also be seeking assistance from the Australian Government for infrastructure and R & D grants that may be available along with private investment placements.
We are keen to establish contacts with growers here in Australia and increase the volume of Industrial Hemp production for our country. We are looking forward to talking further once you have further information for us.
Industry Discrimination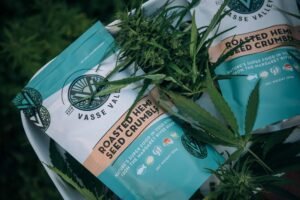 In WA we have seen extraordinary action been taken by the payment platform Stripe.  Without any warning Vasse Valley Hemp Farm had their online payment platform suspended by Stripe and their funds frozen. Initially this was on the basis that the sale of  products containing CBD or THC contravene Stipe's policy, however Bronwyn Blake, Vasse Valley's managing director, has made it clear to Stripe that there is no CBD or THC in any of their products.  After 10 days, Stripe has still not released their funds and have said they are not at liberty to give further explanations on how their policy has been contravened.
The AHC has taken up this issue with Stripe in order to support the growers here in Australia. We are in full support of Vasse Valley Hemp Farm and helping push the industry forward by challenging prejudice and other outmoded misconceptions. Similar issues are also encountered on various social media platforms.
---
Research Report
The AHC is in full support of the CRC bid for the Agrifutures project: Australian Industrial Hemp Five-year Program of Research. As part of our contribution we compiled a brief report on industrial hemp research which illustrates just how vital it is for the government to support the national CRC bid led by the University of Southern Queensland.
Hemp research around the country|
Currently research for the Australian industrial hemp industry is quite feeble and urgently needs addressing.  There is very limited and ad hoc investment from educational and government institutes currently being provided.  The private sector is investing into the industry for both infrastructure, market and research development with very little support from government.  In fact, from a legislative perspective government is actually being a hinderance to industry investment, including that of research.
Each state has varying degrees of agricultural support.
WA has been supporting minor research at Kununurra research station.  The Margaret River Hemp Company has had support for trialling fibre processing, but not enough to bring about major sustainable development.  There has been some world first research funded by Agrifutures into fodder for livestock.
In South Australia small variety trials have been carried out over the last few years by Mark Skewes through Primary Industries Resources South Australia, which has provided some good base data, but only very limited.
Victoria: Melbourne University has been researching hemp fibre development, but only very limited investment. Melbourne Water has researched use of hemp in cooperation with Melbourne University. The CSIRO has put some good work in on fibre processing research, but mainly because it's driven by individuals who only get the barest of support.
Tasmania: private enterprise and individuals have conducted most of the variety trials, although with very limited funds Tasmanian Institute of Agriculture has co funded with private enterprises in various trials over the last 20 years but only very small scale. There has been some good state grant funding for infrastructure and advocacy development.
NSW: private enterprise has carried out the bulk of investment into research and industry development.  State investment seems to be limited mostly to case studies, although lately there has been lightly funded work for research into pathogens and pests in hemp.
Queensland: no major research funding at all.  Some small trials over the years have been conducted in the Atherton, Gatton and Biloela areas by one or two institutions and some case studies have been funded.  There has been significant private investment into trials, however the QLD government has been of little or no assistance and more of a hinderance to the industry.
National Overview
Currently there is overall investment of at least $20M into fibre industry development alone, projected in the next two years, through no less than 5 major projects extending from Townsville QLD to Monarto in SA.  Unfortunately, coinciding with this is the shutting down and sale of the CSIRO non-woven research plant, a facility that could be vital for research into hemp non-woven fibre products of which there will be significant emerging markets. This lack of investment into research needs to be reversed.
We are entering our second year of the industrial hemp variety trials funded by Agrifutures.  Both NSW and QLD declined to participate in the first year and only by persistent encouragement from Agrifutures and industry have the states agreed to co fund variety trials over the next two seasons.
The establishment of the Industrial Hemp CRC will bring effective and coordinated investment to the industry which has significant opportunities for development.  There is an eagerness amongst all stakeholders to progress the industry from researchers, bureaucrats, growers and industry processors.  The missing element can be provided by the CRC.
International research
For the last 20 years various countries have been actively supporting industry research, and recently there has been major increases in research investment levels given the realisation of the massive potential for the industrial hemp industry.
Areas of most active research support include:
Canada – having experienced good institutional research support and government funding, Canada now has over the last 20 years established a billion-dollar industry.
USA – The USDA has recently established a fund of major proportions to support research in the hemp industry.  Since the passing of the US Farm Bill, there has been rapid growth in research and development of the US industry.
China – Although access to Chinese technology is limited, it has been reported that significant research development has occurred there, being by far the growers of the largest area globally, they have significant scale, experience and research advantages.
Europe – There is significant collaboration throughout Europe for hemp industry research and development.  Recently a German/Belgian delegation shared some research insights with the Australian industry, this highlighted just how far behind we are in relation to these progressive countries and the need for strong coordinated research investment in Australia.
New Zealand – It was discovered in 2022 that with comparison of research investment levels, New Zealand invested 12c/ person into hemp research, whereas Australian invested a mere 1.2c/ person.
Australia is currently presented with an opportunity to establish a globally competitive hemp industry.  Without the levels of investment into research proposed by the CRC applied, then this opportunity will pass us by.  With robust research the industry will be able to develop innovations that bring about cost efficiencies making hemp not only a socially and environmentally sound option for growers and consumers, but also an economically attractive option.
---
We thank you for being a part of the Australian Hemp Council, helping us support those in the industry, when and where possible. As always, to be up to date for all information regarding hemp processing, growing in Australia be sure to subscribe to our mailing list through our website.
From everyone at the AHC, thanks again and see you next month.