AHC President's Report – October 2022
AHC President's Report – October 2022
AHC Presidents Report – October 2022 
Right across the country the weather continues to be unusually wet causing all sorts of issues for cropping including delayed sowings and wet harvests. This could play out to be problematic for the near future supply in the hemp market but as always, we will persevere.

We would like to highlight the announcement by Agrifutures of the $2.5M funding for research into the industrial hemp industry over the next 5 years. It's a great sign of confidence in our industry to see Agrifutures making such a commitment.  If you or your organisation is interested in submitting a proposal, check out this link on the Agrifutures website. Deadline 14 November.
---
Industrial Hemp Fibre seminar with researchers from Germany, Belgium and Australia
On Thursday 17th November we are fortunate to have a series of presentations offered by a visiting delegation of industrial hemp researchers from German and Belgian universities and research institutes on fibre processing technology and innovation. The seminar provides an excellent opportunity for the Australian industrial hemp industry to meet with experts from Europe and to explore potential collaborations.
The seminar will be held at CSIRO A&F's Werribee campus running from 10.00 am through to 4.00 pm in the afternoon. For further information you can contact us on info@australianhempcoucil.org.au.
A webex link is provided below for on-line attendees:
https://csiro.webex.com/csiro/j.php?MTID=md11ccf30b0ecb55f5a3aa0cb5a30b717
Once connected to your meeting remember to start your audio and video. Password if prompted: gqHHnmgR635
---
Australian National Field Days
The hemp industry had some great exposure at the Australian National Field Days in Borenore near Orange, NSW, where the hemp industry was showcased to attendees on the day. It is great to have events like this where the beauty of hemp as an industrial product, and it's benefits can be demonstrated to the public as well as local politicians.
---
News from around the country
iHempWA – Gail Stubber
Our state AGM was conducted and the same committee was voted back in for 12 months. A new group is working with DPIRD aiming to build a demonstration village made from hemp building materials. This village will showcase hemp used in building products with the hope that this will be a pivotal demonstration of hemp in housing and its adoption on a larger scale.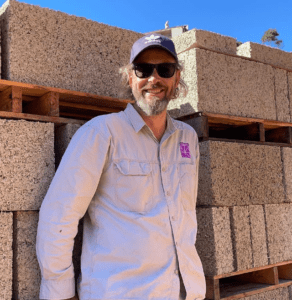 Interest in hemp housing is growing in WA, although the industry is looking for better Government support to help secure the supply chain.
WA Hemp Growers Co-op sent a request to the Minister of Agriculture asking if testing of certified seed could be suspended.WA Hemp Growers Co-op have 5t of seed available including Fibror 79, Orion 33 and Fedora 17.
iHemp NSW – Jaimie Milling
Major flooding is occurring across the state causing major disruptions.
We travelled down to Sydney on the 29/9/22 for a Hemp CRC meet & greet at the QT Hotel. The afternoon was a huge success meeting with some of the NSW partners and people involved with the Hemp CRC. The afternoon was well supported by the Governance team, Research program leaders and sector experts. There was a great contingent of members from the Western University of Sydney, Southern Cross uni, NSW DPI, CEO of the Medicinal Facility from Armidale and many more.
At the Hemp CRC afternoon, we met with George Bousamra of Syncorp Consulting. He is doing a lot of work within the hemp industry helping businesses to move forward. Click here for a link on some welcome funding for the Moree region.
Queensland Hemp Association – Lauchlan Grout
The QHA had a productive meeting with Hon Mark Furner – Minister for Agricultural Industry Development and Fisheries and Minister for Rural Communities on October 14th. Click on the following link for a summary from the meeting:
QLD Hemp meeting with minister
Tasmanian Hemp Association – Tim Schmidt
We have very wet conditions preventing crop planting and flooding out established crops. This may provide an incentive to put in hemp crops given the later planting times, although many growers were looking for better prices before committing to hemp. Some growers are experiencing slow payments for their last season crops. It is evident there is currently an oversupply of seed putting downward pressure on planting areas for the coming season.
Unfortunately, some of the variety trial seeds have been dropped from the trials due to importation issues.
Industrial Hemp Association of South Australia – Mick Anderson
There is growing interest in Fibre production for South Australia, further developments to be reported at a later date.
Regenerative Hemp Victoria – Lyn Stephenson
We are also experiencing very wet conditions.
We have concerns that the additional police check required in Victoria holds up renewals and new permits (Police checks seem to have to wait 10 days).
Leawood Hemp has small quantities of various hemp seed available for planting this season.
---
We rely on your support to help promote the hemp industry, by joining your state organisation you give us a greater voice and a greater ability to bring about changes to help our industry grow.
As always keep your eyes on our LinkedIn and socials for updates as well as sign up to our newsletter to receive constant updates within the industry in Australia.